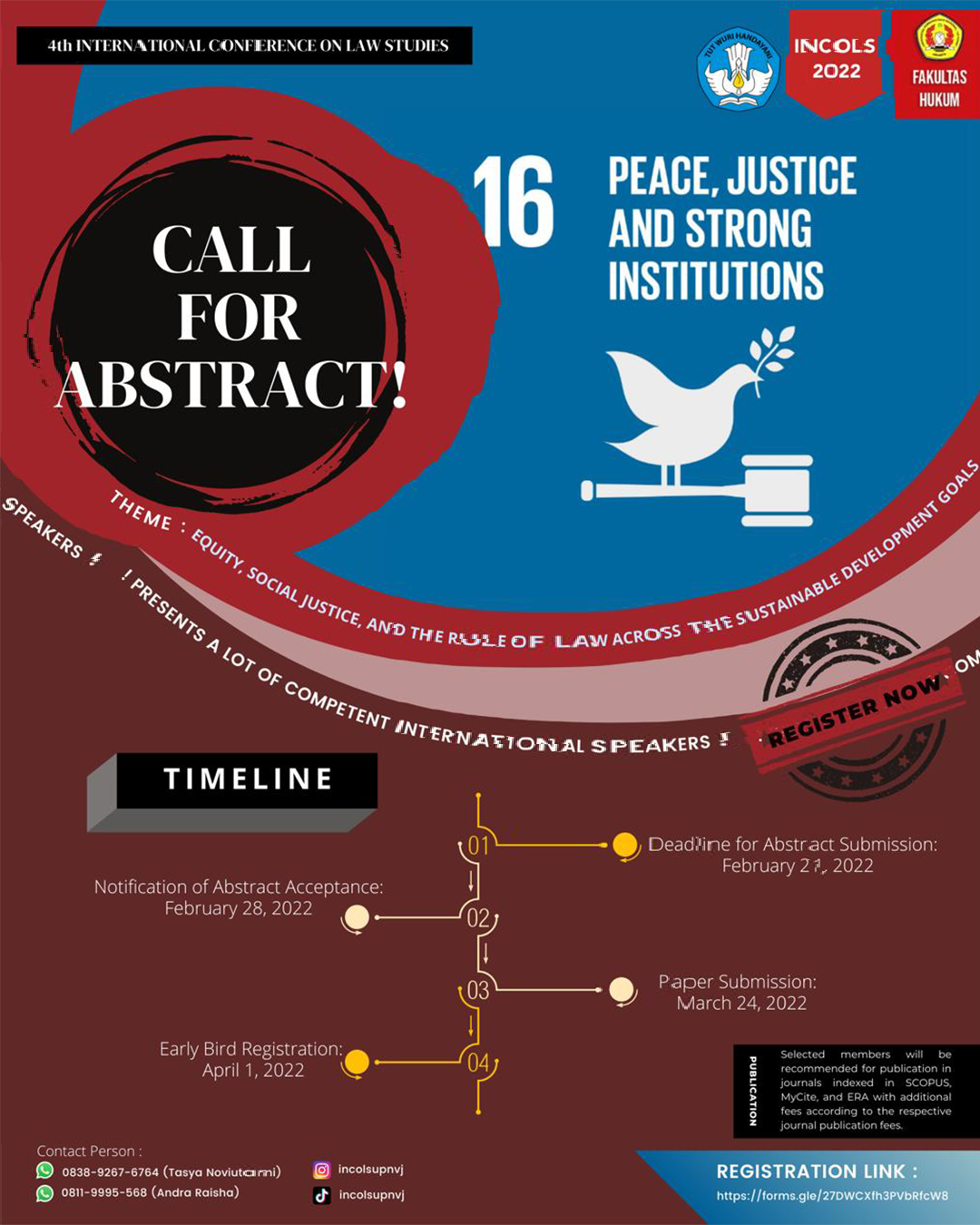 [ CALL FOR PAPER INTERNATIONAL CONFERENCE ON LAW STUDIES]
International Conference on Law Studies kembali lagi dengan membawa tema:
"Equity, Social Justice, and The Rule of Law Across The Sustainable Development Goals"
Untuk kalian yang suka menulis tentang keadilan dan HAM, jangan lewatkan kesempatan menulis dan menuangkan pikiran kalian dalam cakupan internasional!
Jurnal yang terbaik akan mendapat kesempatan untuk diunggah di jurnal-jurnal terakreditasi!
Berikut timeline pelaksanaannya:
📌Deadline Submit Abstrak: 21 Februari 2022
📌Pengumuman Penerimaan Abstrak: 28 Februari 2022
Tunggu apalagi? Submit abstrak kalian pada link dibawah ini! 👇
Bit.ly/AbstrakINCOLS2022
Syarat dan Ketentuan dapat diakses melalui 👇🏻
bit.ly/TemplatePaperINCOLS2022
Pengumpulan abstrak akan berakhir pada 21 Februari 2022. Yuk jangan sampai ketinggalan!
Sampai ketemu di INCOLS!
FOLLOW US on:
📷Instagram: @incolsupnvj
🎶TikTok: @incolsupnvj
Contact Person :
Tasya
📲 LINE: @ikanpesutt
📲 WA: 083892676764
Andra
📲 LINE: @andraazhr
📲 WhatsApp: 08119995568