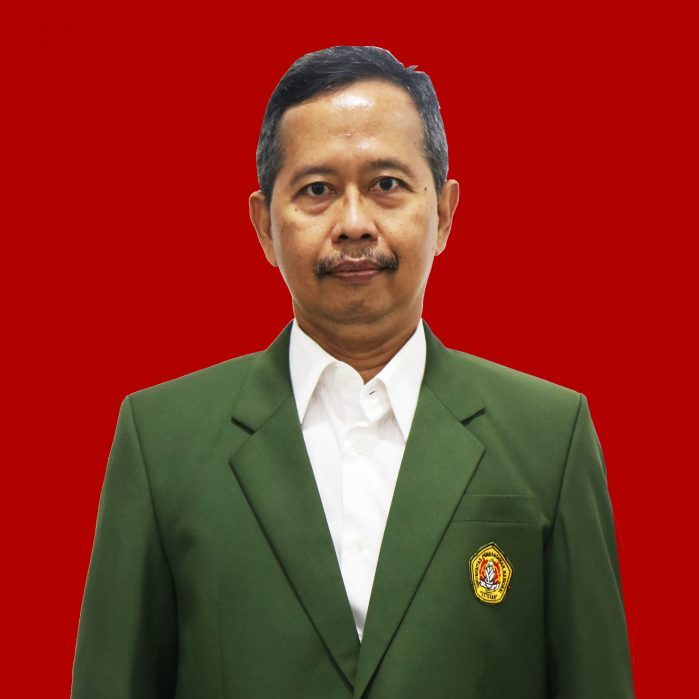 Dr. Handoyo Prasetyo, S.H., M.H.
Assistant Professor of Criminal Law
Handoyo Prasetyo, Born in Surabaya on December 19, 1963, he was raised in an Indonesian Navy family. He graduated from Kanisius High School, Menteng Jakarta. In 1982, He was the author who studied at the Faculty of Law, University of Indonesia, Jakarta majoring in procedural law / legal practitioners. He graduated in 1987 with a thesis entitled "Effectiveness of the Decree of the Governor of DKI Jakarta No. D.1 – 7903/a/30/1975 concerning Affirmation of Determination of Condet Area as Fruit Area". Completed his Master of Law studies as the best graduate with a GPA of 3.95 in the Master of Law Concentration in Business Law, Postgraduate Program at Jayabaya University, in 2008 with a thesis entitled "Principles of Justice in Court Decisions in Brand Cases (Juridical Review of Karisma Trademark Disputes)." Graduated and completed the Doctoral Program in Legal Studies Concentrate on Criminal Law, Jayabaya University, in 2013, with a dissertation entitled "Elaboration of Corporate, Directors and Employees Responsibilities from Civil to Criminal Law Based on Law Number 40 of 2007 concerning Limited Liability Companies". Career for 30 years in the Legal section of the Astra Group since 1989, and I started teaching the Master of Law at UPN Veteran Jakarta on February 1, 2014, concentrating on criminal law.
Several scientific papers, both as primary author and member, are: Reconsidering Functions and Roles of Corporate Executive Officer: Legal and Managerial Dilemmas between Employee Executive, Trustee, and Fiduciary Duty (scopus); Company Culture As An Alternative Solution To Prevent Fraud In Workplace; Cascade Liability Theory in Corporate Crimes in Indonesia; Juridical Analysis of the Obligation to Affix Indonesian Language Labels on Domestically Traded Goods; Juridical Review of Criminal Liability Perpetrators of Content Theft for Commercial Purposes on Instagram Social Media; Legal Protection for Consumers Using Personal Protective Equipment Based on the Consumer Protection Act (Case Study of PT Brilian Cipta Nusantara); Non-Conviction Based Asset Forfeiture as an Effort to Recover State Losses Due to Corruption; Juridical Review Dualism Individual Legal Status Acting Director of the Corporation; Application of Criminal Substitution Fines in the Form of Confiscation of the Convicted's Assets in Taxation Crimes; Restructuring Insurance Policy As An Ultra Vires Action Based On Limited Liability Company Law; Criminal Liability of Children Who Cause A Fire; Legal Protection of Fintech-Peer to Peer Lending-Based Money Loan Recipients; Corporate Responsibility in Corruption Crimes at PT. Asuransi Jiwasraya (Government Company) (Analysis of Sentence Number 30/Pid.Sus/Tpk/2020/PN.Jkt.Pst); Passive Euthanasia by Doctors Against Patients in Indonesia; Implementation of the Decision of the Constitutional Court of the Republic of Indonesia No. 18/PUU-VII/2019 on the execution of fiduciary guarantees from the perspective of criminal law; Securing and practicing Pancasila with legal breakthroughs; Restructuring Insurance Policy as an Ultra Vires Action Based on Limited Liability Company Law, and Book Chapter: "Strengthening the Function of Corporate Business Registration Numbers as an Instrument to Prevent Bribery and Gratification During a Pandemic; Corporate Strategic Roles and Functions in Defending the State" and "Corporate Roles in Enforcement of Restrictions on Community Activities." Publication information can be via Google Scholar Handoyo Prasetyo and Sinta ID 6708327; correspondence via email: handoyoprasetyo@upnvj.ac.id